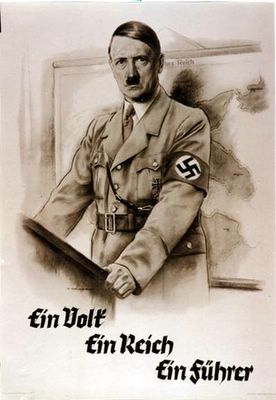 "One People, One Reich, One Führer."
You might wonder what HITLER is doing in a blog named scientific masala. Hitler is here for us to understand human psyche. It is amazing that the most important events of the past century have been associated to this man. He was a barbaric villain; there are no second thoughts about that. But, despite all that he motivated an entire nation from mediocre levels to that of a super power. It is incredible how one man can motivate people to hate other people. Human beings have a history of craving for power and glory.
Wars are fought for three reasons,
1. PROTECT TERRITORIAL INTEGRITY
2. INVADE, CONQUER AND
3. RELIGION

Now in the context of war let's analyze the meaning of being civilized
civ·i·li·za·tion (sĭv'ə-lĭ-zā'shən)
n.
An advanced state of intellectual, cultural, and material development in human society, marked by progress in the arts and sciences, the extensive use of record-keeping, including writing, and the appearance of complex political and social institutions.
The type of culture and society developed by a particular nation or region or in a particular epoch: Mayan civilization; the civilization of ancient Rome.
The act or process of civilizing or reaching a civilized state.
Cultural or intellectual refinement; good taste.
Modern society with its conveniences: returned to civilization after camping in the mountains.
WAR can never go hand in hand with the word civilized. A civilized individual does not fight. He does not pollute. He preserves. Therefore, war is generally not right. History has always talked bad about leaders who led their countries to war. Out of the three reasons above to wage a war territorial integrity is the best and the only plausible reason for war. In the animal kingdom, fights over territorial integrity are common but, animals seldom kill their own species. It is a rarity in the animal kingdom. Human beings are the only species that can kill their own and punish their own. It is kind of disconcerting at this point to think about what would happen if we evolve further. Science fiction writers have always associated increased levels of barbarism and brutality with increased intelligence. Imagine the human being subject to laboratory testing by a superior species. That day might not occur in the near future but if the laws of evolution hold true humans might evolve to a superior species. Our human race and dominance will become obsolete and we will become dead fossils like dinosaurs. This has been the topic of discussion of many science fiction movies like planet of the apes. Artificial intelligence taking over man is probably the most popular science fiction topic. Man made machines ruling over man himself. I find that an obsolete idea, but not impossible. Till the dawn of the next super species let's learn to rule the earth in peace with our own species or the days of extinction are not far away.
MAY THE FORCE BE WITH YOU...