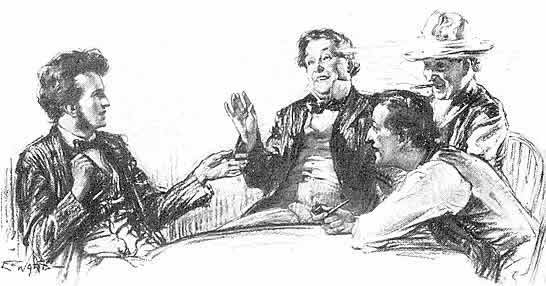 pic courtesy:
http://www.twainquotes.com
Seems like I have been posting some very depressing poetry the last few days and for a change people want me write something light. Since, I am not a natural at cracking witty jokes, forgive me for what I am about to write might particularly not vibe well with feminists.
Recently I was in conversation about a hot topic with two other friends of mine, whose identities I do not prefer to reveal at this time. Remember, I was the one who wrote about anonymity? Okay! Before any of you decide to guess what the discussion was about, let me confess that it was about women and in particular Brahmin women.
What was the context?
Well, according to my friends Brahmin women these days are very sexually liberated, and that they in their blog sites discuss everything from how they started their day to how they ended their day including intricate details about how they made their sambars or their rasams. The other complaints were as follows
1.Brahmin women do not want to marry Brahmin men anymore they prefer macho "nonbrahmin" men.
2.Brahmin women have a craving for anything "nonbrahminical" including non vegetarian
3.Brahmin women do not follow the age old religious rituals or customs anymore
4.Infidelity is on an increase with Brahmin women
5.One cannot be sure if a Brahmin woman is a virgin or not before marriage.
I couldn't help laughing at all this, I was wondering about how cheap we have all become to discuss women in such vein (I include myself in this category). I was born a Brahmin but I never had it as a goal to marry a Brahmin woman. My brother who was brought up by my parents with the most orthodox habits fell in love and married a "nonbrahmin" girl and he doesn't regret it one bit. I wonder why we (the Brahmin community) separate ourselves from the other communities. I am sure many of you have counter arguments for this, but I can only look to clean my house before I point a finger at anyone else's cleanliness.
Finally, I would like to include a very humorous post written by
Raagarupini
, Hope she won't mind me publicizing her post.
Of astrology,the best homosexual couple I've seen and Chennai
Ahh...now that makes for a pretty mismatched title huh?Now,I just met these two guys who hail from my native in interior TN.Both middle-aged.Pretty typical conservative types.One is an astrologer S who promptly saw my jadagam (horoscope) and proclaimed that I was a caring,considering person who trusts people a tad too easily.No prizes for that Einsteinian prediction.But he did tell me that I will not lack for anything.Yeah well,is that a hint that I'm waaay too spoiled?I think so.First my parents,now my man.S says "aval amoham aa irupall.Avaluku enna kurachal".Can't translate that.Just means I will live a pretty decent life.The other guy C has a girlish voice and sells sarees and jewellery from home.He cracks amazingly funny jokes in Tamizh with a rod straight face.Kinda like Will and Jack from Will and Grace.But the difference is ,these guys are a couple.And they have been so from their days as youngsters.Even when they lived in the native (village!).And no one dares to question their relationship too.I don't know whether it's because no one thought of it that way or because both of them just don't give a damn.But it works.Very beautifully .Or so my mother says.Ah, now coming to Chennai ,where I moved recently-it's hot,it's humid,I have no air-conditioning at home (ancient house,rewiring will cost a bomb) and my PC is well,a Piece of Crap.It goes off promptly if I try to attempt any activity that goes on for more than fifteen minutes.Let's hope I can fix that.But, one thing I noticed and something we were told in our orientation course in college is that the traffic is miserable.No no,let's not talk about any other metros for now.B'lore even when I travelled recently has some lanes in residential areas especially where there is some semblance of calm.Bombay is raucous but it's four wheelers mostly.In Chennai-it's two wheelers,cars,buses,lorries.Everything that can move seems to be on the road!And on every possible lane.Not even the gullies in remote residential areas are spared.And the reason I know what I'm saying is right is because, -as the historian who lectured today pointed out,- most of the city's development was over within a certain span during the Raj.After that,a lot of expansion happened internally,as opposed to other cities where suburbs developed substantially.This has created a lot of hungaama in the heart of the city.The suburbs have caught up but much of the damage has been done internally.Let's not even get started on the lack of proper water supply.But actually,in toto,it's pretty decent.Home is on a main road.A tad noisy but I have every facility nearby.I have my two wheeler to cover short distances.The buses are bad but with a little juggling between auto,bus and my scooty I will do fine.But the acme of my ten month stay in Chennai will most definitely be college.I loved the place and my course and everything about it.Plus,doing journo and that too broadcast journo in a city with this much history will be a pleasure.I hope to be a busy busy lady. :)As always I look forward to this new chapter with childish inquisitivity,zeal and lots of joie de vivre.Only thing is,as per that guy S's predictions I will be married by next year.:D